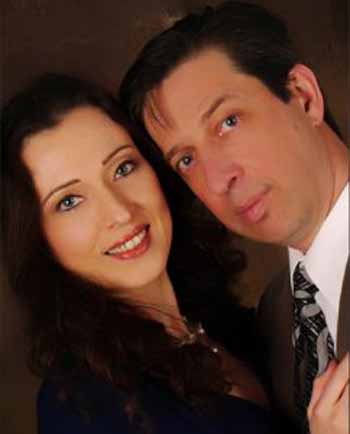 Leon and Marina invite you to experience the charm this grand solid cedar log home has to offer. They purchased The Lake View Lodge, formerly built and operated as Bed & Breakfast, from its previous owners in February 2016. The purchase of this magnificent property fulfilled their long-time dream to own such a unique house and property in the middle of Southern Poconos and to allow others to experience this area the way one should.
Like most owners, Leon and Marina took a circuitous route to their present station in life. They have diverse backgrounds – Marina holds a Masters of Science from Johns Hopkins University and practices as a Functional Medicine Nutritionist and Skincare specialist; and Leon, an owner of a small successful Environmental Company that provides services in New York, New Jersey & Pennsylvania.
Leon was born and spent his early childhood in Lviv, Ukraine, where he acquired his love for outdoor sports including skiing, fishing, & camping/hiking. His college years were spent in LIU/Southampton Campus (1988) earning a degree in Environmental Biology and later attending Montclair State University in NJ, earning Masters in the Environmental Management (1996). After college Leon fireplace-with-fishworked for several Fortune 500 engineering/consulting firms, namely DMJM Harris & Langan Engineering, where he applied his trade in an environmental consulting field. Leon's love for outdoor sports remains, so don't be surprised if you see your host's trophies at the lodge. His biggest recent accomplishment was a catch of a lifetime, when he landed a monster pure strain musky on the NJ side of Greenwood Lake, which weighed 44lb at the boat and stretched 51.5". The musky is currently on display at the lodge along with a clipping from a local newspaper.
Marina's early life was spent growing up in Moldova, where she excelled academically. When she arrived with her family in Maryland in 1992 Marina was able to quickly adapt to an American lifestyle. Although her family often struggled, she succeeded in attaining a Masters degree from the renown Johns Hopkins University in Computer Engineering and secure a successful career in the related field. Once Marina met Leon and had a family, she decided to re-educate herself so that she can fulfill her lifelong dream of helping others with their health through a whole-life holistic approach. It's this shift that put her on the road to a successful career as a nutritionist, wellness educator and aesthetician.
Leon and Marina met and fell in love. Their courtship, filled with countless hours of ballroom dancing, antiquing, hiking & boating, led to their marriage in 2002. Although not new to vacation rentals, owning a small lakefront cottage in the Catskills, they stumbled on the Southern Poconos while staying at local Inns and Bed & Breakfasts and enjoying many local attractions that the area has to offer.
Leon and Marina look forward to sharing The Lake View Lodge with you and are confident that you will be captivated by the essence of hospitality and comfort this Grand Lodge has to offer.